February 28, 2023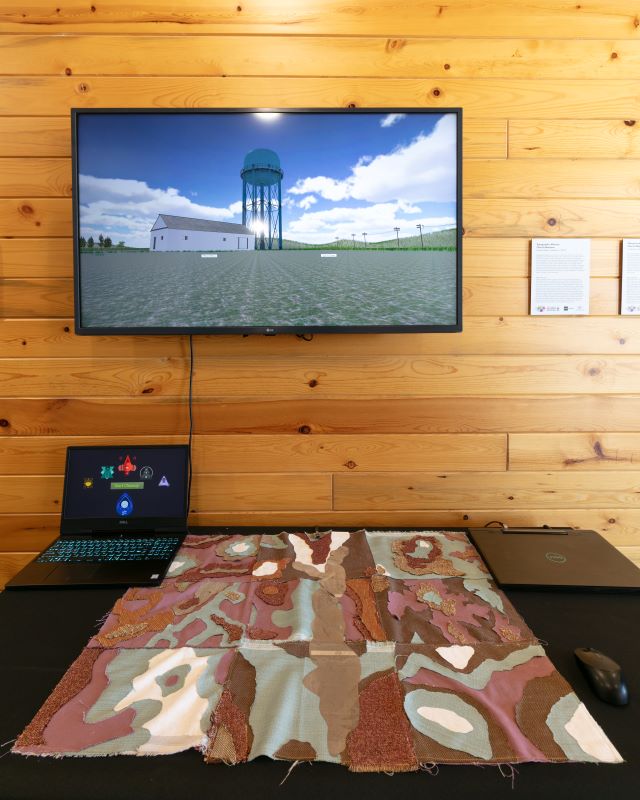 Installation image from BMoCA + Anythink Bennett installation, Topographic Memory by artist Cherish Marquez. Courtesy of Wes Magyar and BMoCA.
Kiah Butcher's curatorial career grew because of her commitment to community engagement. Placing contemporary art in unexpected places, like libraries, is the perfect venue to connect Colorado artists to different communities across the front range.
"For years, we have been doing art education in libraries, and the museum decided to expand on the outreach education programs in libraries with dynamic exhibitions that spark curiosity," Butcher said.
In conjunction with BMoCA's downtown Boulder museum space, contemporary art is blooming in libraries across Adams, Arapahoe and the newest partner, Jefferson county library districts.
In the small town of Bennett, in Adams County's farthest eastern reach, BMoCA offers contemporary art that is informed by the community and its residents to explore ideas about their own town and landscape. As part of her project, featured artist Cherish Marquez held two community workshops where participants built a simple video game using Unreal Engine, a 3D computer graphic engine. Participants created their own virtual landscape, while telling stories of Bennett which were embedded in the final game design.
A topographic map was made from recycled fabric, and conductive material, which allowed users to move through the digital community model created during the workshop.
Across the street from the library sits Bennett School District (including the elementary, middle and high school). Melinda Laz, BMoCA Educational Outreach Manager worked to bring these unique art experiences to classrooms and make connections to the art in the library.
"Libraries have a unique connection to community," Laz said. "Students learned about the artwork and artist directly in their classrooms and then could walk across the street to engage even more deeply with the work."
For over ten years, BMoCA has been partnering with libraries in the greater Denver metro area bringing contemporary art education programs to the spaces. These programs and partnerships have provided a strong foundation for BMoCA's exhibitions programs at libraries, an effort which began in 2021 in three library branches and has grown to exhibitions in nine libraries in 2023.
 BMoCA has been expanding its regional exhibition program as it strives to increase access to contemporary art across the Denver metro area. These programs build on BMoCA's 51-year history of collaborating with community partners to develop and present programs that foster the exploration of art, artmaking and dialogue about current topics. The exhibitions also advance BMoCA's commitment to providing accessible arts programs that "meet people where they are," and bring contemporary art into varied communities.