May 2, 2023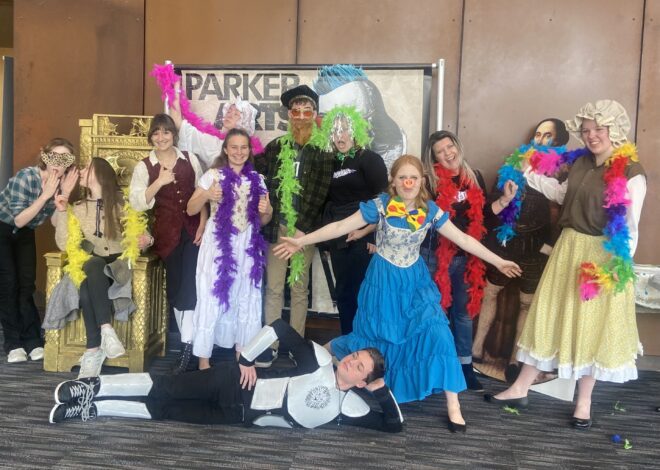 Lutheran High School Performers at Parker Arts Shakespeare Festival
At Parker Arts, community and kids come together to bring the work of young creatives into the world of exhibition and performance.
Nestled in an already heavy schedule of theater, concerts, art exhibits and other cultural events, the PACE Center holds a place for two special opportunities for young creatives to interact with their craft and receive real-world feedback, encouragement and skills.
"We want all the students we work with to have the chance to build confidence in themselves, have the opportunity to practice their chosen discipline outside of their schools and also connect with artists from our community and around our state," said Carrie Glassburn, cultural director at Parker Arts. "We often find that the working artists that join us get as much out of the opportunity as the kids do."
For many years, Parker Arts has offered a unique experience for high school students who are working at the highest levels of visual arts called "Portfolio Days". The event includes a select group of about 40 high school students working in and around the Front Range to have their visual art portfolios reviewed and critiqued by art professors, working artists and their peers.
Also included in the event are panel discussions on various topics, support for writing their artist's statement and practice at presenting that statement in a realistic scenario. The students are also able to visit with various universities that have art programs to learn more about those programs and how to apply. Finally, the event culminates in a gallery exhibit and reception, where prizes and scholarships are awarded.
"When students tell their families they want to be a professional artist, sometimes the support isn't there. We want to show them that it is possible to make a living as an artist, and give them the tools to do it," Glassburn said. "We want them to meet and talk with artists who are already working so they can see what it looks like in practice."
In the same vein, Parker Arts also stages an annual Shakespeare Festival for Parker-area middle and high school students  that allows burgeoning actors to compete with their peers for top acting accolades. Each competing student or team of students performs a scene or soliloquy from Shakespeare in front of multiple expert panels including working actors, producers and directors. Winners perform on the mainstage of the PACE Center for their fellow competitors. The event also includes acting workshops ranging from stage combat to Elizabethan dance to Shakespearian insults.
"We do a lot of workshops, classes and camps each year, but these two events are special because they allow us to bring together young creatives who have similar interests and expand their skills," Glassburn said. "The fact that they are also able to connect with working artists is their discipline just adds to the whole experience."