July 5, 2023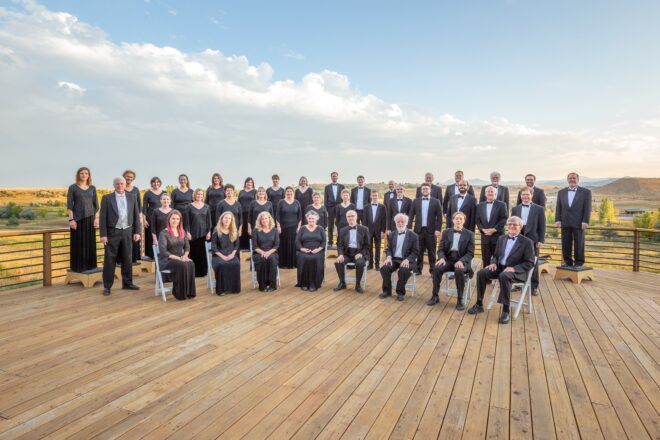 Ars Nova Singers
This summer, hit the trail with the Ars Nova Singers! Scott Carpenter Park in Boulder, Colorado is now home to a free, immersive musical experience known as "ASCENT: A Boulder Soundwalk", which pairs the local landscape with the beautiful vocals of the Ars Nova Singers, conducted by Artistic Director Tom Morgan.
In 2022, the Boulder choral group was approached by composer, Divya Maus, to collaborate on a public soundwalk experience. Maus had composed music for soundwalks in both Los Angeles and Denver and was inspired to create an experience based on Boulder, one of the places she called home when she was growing up. Maus composed music for the experience that summer, and Ars Nova recorded each piece in October. Then, after the editing and mixing process was completed in February, Maus painstakingly uploaded each recording onto the Echoes App, pairing them with their corresponding locations in the park in real time as she walked. In March of 2023, ASCENT: A Boulder Soundwalk in Scott Carpenter Park came to life.
Ars Nova Artistic Director Tom Morgan, Executive Director Kimberly Brody, Boulder Mayor and former Ars Nova Singers member Aaron Brockett and composer Divya Maus at Scott Carpenter Park
By downloading the Echoes app on a GPS-enabled device (you can even scan the QR code below to do so), listeners can embark on a self-guided musical journey through the park all summer long. There are three choral movements and fifteen short "sound bubbles" in different locations, each based upon the natural surroundings. For example, "Comes the Water" is triggered as listeners stroll along the Boulder Creek, and sonically explores how the Creek's waters change from winter to summer. On the other hand, the short, vocally produced sound bubbles like "Soft Rainfall" and "Hummingbird Passage" evoke the natural sounds of the trail.
"The contrast between the composed movements and the sound bubbles is really interesting," said Executive Director Kimberly Brody. "You can make the experience your own – hang out in a sound bubble you like, walk through the installation at your own pace, or take a different route each time. You can almost create your own composition."
The Soundwalk is available in two versions: one for walking and one that is wheel-friendly so that listeners of all mobility levels can enjoy the experience. "We want to reach people who may not be able to attend a concert in a concert hall. The Soundwalk allows for a personalized, free concert experience without limitations," said Brody. In addition, the park is centrally located and accessible via public transportation, so the Soundwalk is limited only by the park's opening hours.
"This is a melding of music and technology that's available whenever and however listeners want to experience it," Brody shared. So, what are you waiting for? Enjoy "Ascent: A Boulder Soundwalk" this summer through September at Scott Carpenter Park.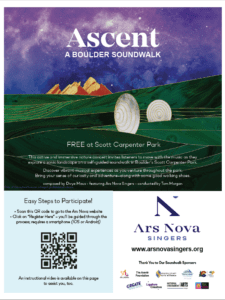 ASCENT: A Boulder Soundwalk Flyer