August 31, 2020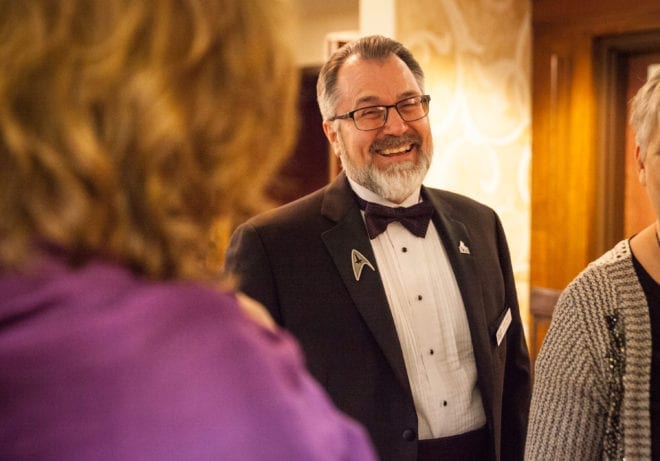 Steve Wilson talks with guests at an annual Denver Jewish Film Festival event.
The best way to understand Steve Wilson might be knowing that he enthusiastically understudied his wife once in a production of Tartuffe at the Arvada Center.
His wife Leslie, a long-time stage actress with the Denver Center for the Performing Arts, had overlapping shows and Wilson stepped in to finish the last week of her run as Madame Pernelle. He gamely shaved his ubiquitous beard and, literally, jumped into her costume.
"We had this crazy idea that turned out to be just perfect. And a whole lot of fun," Wilson said.
What you should take away from this is a few things that underpin Wilson's entire career to this point. First, he's not unwilling to take risks, big public ones. Second, he believes deeply in the ability of the arts to transform each one of us, promoting dialogue and deeper understanding of the human experience. And finally, he understands collaboration in his bones.
Wilson has been a part of the Denver Metro area's theatre community for more than 30 years. For the last 26 years, he has worked for the Mizel Arts and Culture Center in various roles making him a pivotal force in founding the Wolf Theatre Academy and the Denver Children's Theatre and guiding the Denver Jewish Film Festival to name a few. Through these venues, his work has literally touched thousands and garnered numerous awards.
But it might have been his 14 years as artistic director for PHAMALY, the nationally acclaimed theatre company comprised entirely of actors living with disabilities, that had the greatest influence on his path toward collaboration.
"I went to see one of their early productions, and I just had this weird sense that my energy would be good with the group of actors I saw," he said. "For the entire time I was with the company, I always felt as much a student as I did a teacher."
Wilson never grew tired of the myriad layers plays put on by PHAMALY could present. What additional meaning and context is brought to the role of worldly but tender Aldonza in Man of La Mancha when the actor playing her is in a wheelchair? What additional subtext is added to Urinetown when all the members of the notoriously mean and greedy Cladwell family are played by visually impaired actors?
"The possibilities were really endless," Wilson said. "It was an incredible feeling to have the depth of pallet to paint with. And a pallet that is actually a more authentic representation of our human community."
Wilson has also found himself the glue for dozens of collaborations between arts organizations as well as a force for arts and culture in the metro area as a whole. A long-time supporter of the Scientific and Cultural Facilities district through his work with the Collaborative of the SCFD, Wilson played a pivotal role in the district's resounding reauthorization by voters in 2016.
But like many of us in this current moment, Wilson is in transition. He has opted to try his hand at new work and creative endeavors, moving on from the Mizel Center just shy of three decades. His wife, a professional actor, has seen her stages go dark. And he is helping to shepherd his daughter through her senior year of high school minus the planned college visits and other typical touchstones.
True to his style, he's not dwelling on what is not, but rather looking to piece together what can be.
"My entire journey to this point has been about the sum of the parts. It's been about learning and growing and working in community and collaboration. That is where I am at home," he said. "I'm staying focused on how I can stay nimble. How I can keep making a positive contribution to the cultural sector. Because the power of all of us together, pulling together, will see us through anything. My whole life's work has been built on a belief in that spirit."