February 2, 2022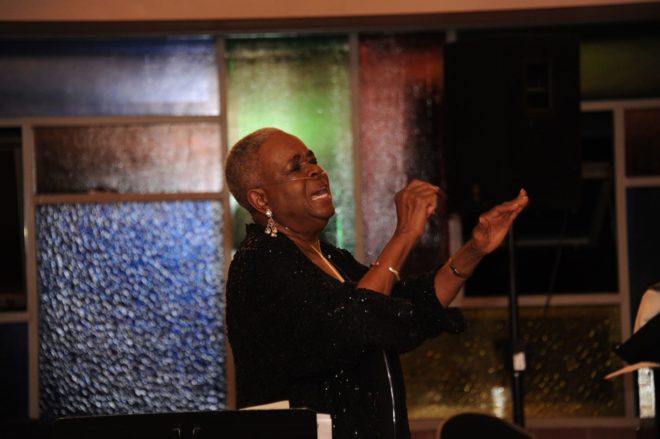 Bennie L. Williams directing the nationally-recognized Bennie L. Williams Spiritual Voices choir.
"I don't feel no ways tired. I've come so far from where I started from."
— Traditional Spiritual
Bennie Lucille Williams has always felt the music first.
Since she was a child, growing up in small-town Texas and listening to former slaves turned sharecroppers sing in the Quarters, she knew the rhythms were a guiding force for her. She heard these songs in her neighborhood when her best friend who lived in the Quarters would come to tell her the singing had started. She heard them in the church she attended every Sunday with her family.
When she would hit one of life's low points, she heard them in her own head and heart. She and her friends would sing them on the playground at school. When they were looking for entertainment, her family sought out chances to see Wings Over Jordan, a prominent Black choir during the 1930s and 40s.  She heard these essential spirituals championed by Black intellectuals like Mary McLeod Bethune and Melvin B. Tolson, who spoke at the two Black colleges – Wiley College and Bishop College – in her hometown of Marshall.
"That's my ancestors' music. That's the music from my people," she said. "I'm black and I'm proud. And these songs tell us clearly, 'You may oppress my body, but you will not oppress my soul. And you will not take the song out of my heart.' These are songs of resistance."
Miss Bennie knows a thing or two about resilience. She has persevered through her life with a healthy mixture of fierce determination and intense wit. For most of her professional career she taught music to junior high school students and high school students in Denver, not a job for the faint of heart. During that time, she heard the young voice of Dianne Reeves and brought her into the choir. Today, Reeves is widely considered among the pantheon of the greatest American jazz singers.
While Miss Bennie loved the work of teaching, her heart remained with the spirituals she was raised on. So, when she retired from teaching, she jumped at the opportunity to choir direct the Spiritualists Project, a decades old, Denver-based choir focused on preserving and performing spirituals. When that engagement came to an end, choir members urged her to continue the work, even setting up the Bennie L. Williams Spiritual Voices choir, to show their commitment to keeping her directing and singing.
"Much of my life has not been a matter of my choosing," she said. "Much of my life has been a matter of the Lord dropping certain things in my lap. I didn't choose the spirituals. It was like the spirituals chose me."
Now retired from that national award-winning choir which continues to carry her name, Miss Bennie is still a source of guidance and wisdom for spiritual singers in Colorado and beyond.
"That line, I don't feel no ways tired. I've come so far. I love that because I have felt that. I know that feeling," she said. "The thing I think about most is how to inspire young people. How to make sure they stay connected to this music, to their own heritage. At a time when people are trying to erase history, I want to be a light that makes it a living thing."